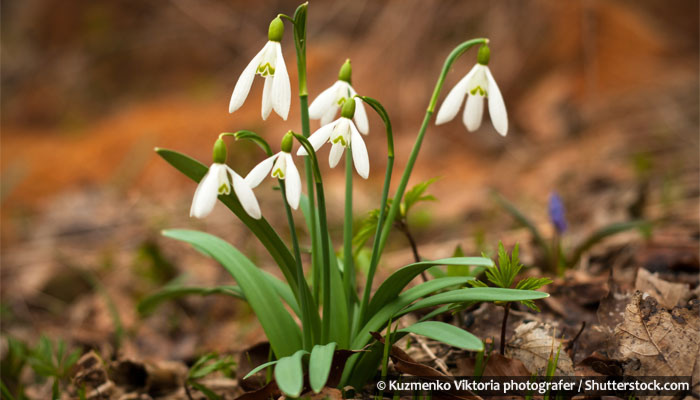 Lone Flower, hemmed in with snows and white as they
But hardier far, once more I see thee bend
Thy forehead, as if fearful to offend,
Like an unbidden guest. Though day by day,
Storms, sallying from the mountain-tops, waylay
The rising sun, and on the plains descend;
Yet art thou welcome, welcome as a friend
Whose zeal outruns his promise! Blue-eyed May
Shall soon behold this border thickly set
With bright jonquils, their odours lavishing
On the soft west-wind and his frolic peers;
Nor will I then thy modest grace forget,
Chaste Snowdrop, venturous harbinger of Spring,
And pensive monitor of fleeting years!
Snowdrops
The snowdrop is a beautiful white flower that is already blooming all over the UK. Despite its delicate appearance, it is a surprisingly hardy plant and provides a welcoming sight after a harsh winter.
Snowdrops can survive cold temperatures and even snowfall. They have always been associated with winter - even the flower's Latin name, Galanthus Nivalis, translates to "milk flower of the snow". They create a striking effect on an otherwise barren countryside.
In bloom between January and March, they can suddenly appear like a bright carpet. Growing best in lightly shaded woodland areas, they are prevalent across the British Isles.
What does a snowdrop look like?
There are around 20 species of snowdrop - a perennial herbaceous plant in the Amaryllidaceae family. They have two leaves, with a white, drooping, bell-shaped flower. Each flower's six petals are arranged in two circles, with the smaller petals in the inner ring displaying fine green markings.
One of the most famous varieties in the UK is known as the Lady Beatrix Stanley. It grows in large clumps all over the countryside, with stems of up to 15cm tall.
Where did the snowdrop originate from?
Although the snowdrop is growing all over the UK, it is not a native plant. It was probably introduced to Britain by the Ancient Romans from southern Europe at some time after 43 AD and became naturalised over the centuries. Originally, they were planted in monastery gardens and gradually spread to the wild.
Soldiers returning from wars overseas also brought snowdrops home with them. In 1874, British soldiers returning from the Crimean War introduced the Galanthus Elwesii snowdrop from Turkey. This is another popular species in the UK today.
What do snowdrops symbolise?
Interest in all flowers' symbolic language grew in the 19th century when snowdrops became more popular. People associated them with purity and they were often planted on graves. However, superstition dictated it was bad luck to pick them to put in your house.
According to the Handbook of Folklore, published in 1913, snowdrops "may not be brought in" as they would "make the cows' milk watery" and also affect the butter! However, the association with bad luck didn't stop people from loving this pretty plant, as long as it was in the wild.
Snowdrops contain a natural substance called galantamine that is sold as a medication known as Reminyl to treat people with Alzheimer's disease. First used in Europe in the 1950s to treat memory problems, galantamine became widely used in Britain in the 21st century.
In 2010, it was authorised for medical use in the UK by the National Institute for Clinical Excellence. However, the snowdrop bulbs are poisonous, so the public should never pick them for homemade remedies.
Where can you find snowdrops in the wild?
Snowdrops grow best in woodlands, although some are mountain or grassland species. If you're lucky enough to live near woodlands, you will more likely spot them on a woodland walk than in the fields.
There is nothing like seeing snowdrops in bloom and there are some sites you can visit during the lockdown, but only if you live in the local area – currently, you are not permitted to travel to sites farther afield during the lockdown.
Although Pentillie Castle, near St Mellion, is currently closed to the public, there are still beautiful wild snowdrops in abundance, within 55 acres of unspoiled land. They make a spectacular display.
Snowdrop Valley, in Exmoor, Somerset, is a haven for walkers. The picture-perfect valley is full of snowdrops - as its name suggests! No cars are allowed, but if you live locally and fancy a walk, this is the place to go.
Don't let wet weather put you off - get well wrapped up in your raincoat and brave the elements to get some welcome fresh air - enjoy the tranquillity of a sea of snowdrops.
It's best to check online in your own local area to see where you can walk if you normally go in the gardens of stately homes or attractions. Make sure public areas are open to avoid a wasted journey.
If you have woodlands nearby, you are permitted to walk outdoors as part of your daily exercise - you must continue to follow social distancing guidelines.