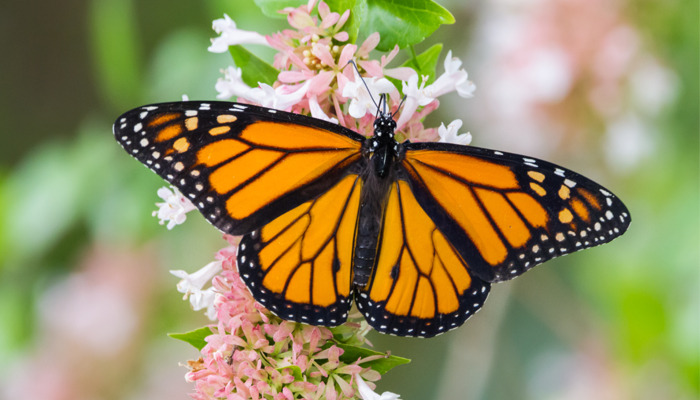 © Tim Herbert / Shutterstock.com
The beautiful Monarch butterfly is one of the most well-studied butterflies on the planet - and with very good reason. A legendary pollinator: the colourful black, orange and white butterfly enables plants to seed, fruit and reproduce.
The health of the earth's ecosystem is dependent on species such as the Monarch, as their actions in pollinating all kinds of plants provide a healthy habitat and food for many different creatures. Maintaining our flora depends on pollinator species remaining healthy.
Conservation efforts have been carried out in various parts of the world to help keep the stunning species alive in numbers. No longer found in South America, it can be found in North America and less frequently in the UK.
Where are Monarchs found in the UK?
If you're lucky enough to spot a Monarch butterfly, make the most of it, as it's one of our rarest migrants and the largest butterfly to be seen in the UK. It is able to migrate across extremely long distances and scientists don't fully understand how or why it can fly so far. Its migration pattern is a great natural phenomenon, as it flies from Canada to spend winter in the warmer climate of Mexico (a distance of more than 3,600 km) and also to California and Florida.
A less frequent visitor to the UK, with only 500 recorded sightings confirmed; the first sighting was in Neath, south Wales, on 6th September 1876. At first, it was thought the species had hitched a ride on a ship, but subsequent sightings of Monarchs in larger numbers led scientists to believe it had migrated.
A herbivore, the Monarch butterfly lives for up to eight months and has a wingspan of up to 4.1 inches, making it Britain's largest butterfly. Sightings have been recorded in the UK between March and November. It lives in gardens, on farmland, in parks and roadside hedges. Monarchs that emerge in late summer and early autumn will migrate for the winter.
Is the Monarch a protected species?
Conservationists have been concerned about the species' declining population for decades. In 2019, only around 30,000 individuals remained in California, a former stronghold, representing a 99% drop in population compared with the millions found there in years gone by.
A loss of habitat, climate change and pesticides have been blamed for the reduction in numbers. However, a court has ruled an insect can't be given protected status in California under the Endangered Species Act. An appeal is likely so that butterflies, bees and other insects are eligible for protected status in the state.
Royal support for Monarch
In 1988, in his role as President of the World Wildlife Fund, the late Prince Philip supported a conservation group's efforts to protect the species' survival in Mexico. Renowned for his environmental activism, the prince was appointed to the role in 1981 and served for 15 years.
He was involved in many environmental causes, visiting more than 50 countries in five continents. His high-profile status raised awareness of the group and helped attract funding for various projects.
He was particularly concerned about the fate of the Monarch butterfly, as its survival had been under threat since the 1960s, due to climate change, deforestation and commercial logging. In the 1980s, the WWF collaborated with the Mexican government and local conservation groups to address the problems.
In 1988, as President of @WWF, The Duke of Edinburgh supported efforts by a conservation group in Mexico to protect the Monarch Butterfly as deforestation & commercial logging posed a serious threat to the species' survival.

?The Duke watches the Monarch butterfly's migration. pic.twitter.com/c5vqFnQee4

— The Royal Family (@RoyalFamily) April 11, 2021
A project was launched to restore forest habitats and promote sustainable tourism in Mexico, headed by Prince Philip, who played a hands-on role in the campaign. He took part in fieldwork that involved going to sites where the Monarchs congregated, watching their mass migration, while presenting great photo opportunities for the world's press to highlight the conservation campaign.
Prince Philip was WWF President until 1996, when he became Patron. Following his death earlier this month, the group's director-general, Dr Claude Martin, paid tribute to the prince's work, describing his genuine interest in conservation.
He became one of the first significant public figures of the era to encourage businesses to practice eco-friendly operations - a stance Dr Martin described as "very daring at the time", as it wasn't the way most businesspeople thought in the 1980s.
Prince Philip is credited with playing an important role in putting the conservation of the Monarch butterfly on the international agenda. Today, people recognise the importance of the species' continued existence in numbers to balance the planet's delicate eco-system.
Conservation efforts
For butterfly watchers in Britain, spotting a Monarch is a major event. In 2014, a cluster of sightings on the Cornish coast made national headlines, with respected newspapers such as The Guardian reporting their arrival. Conservation projects aim to tag as many Monarchs as possible to chart their progress.
The charity, Butterfly Conservation, reports the biggest mass sighting of Monarchs in Britain occurred in 1999, when there were 300 individual reports around the south coast. The group is backing campaigns to have the butterfly listed as a protected species in its California wintering ground.
It is also calling for a worldwide programme of reforestation to provide it with a better habitat for breeding. A petition was launched by the Centre for Biological Diversity calling for the Monarch to be put on the endangered species list, so appropriate action can be taken to increase its numbers.
If you're planning on going out finding butterflies this summer, remember that although it's okay to watch them and take photographs, it's important never to touch or capture them to avoid damaging their delicate wings and body. We all have a duty to protect our precious wildlife.