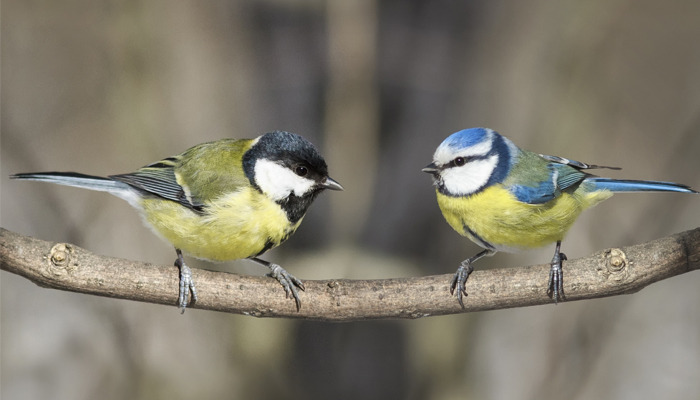 © Bachkova Natalia / Shutterstock.com
The RSPB's Big Garden Birdwatch 2021 attracted more than one million people - making it the largest ever recorded! The annual event enables the wildlife charity to monitor Britain's wild bird population by asking members of the public to report sightings of all species during a specified time period.
The 2021 Birdwatch was massive in terms of the number of birds spotted too - a total of 17 million were logged by vigilant householders. For the eighteenth year running, the little house sparrow topped the list of the most viewed bird during the event on January 29th, 30th and 31st.
Has the lockdown affected birdwatching?
It is thought that the Covid-19 lockdown led to more people taking part in simple activities such as birdwatching. A survey of the general public, just before the Birdwatch in January, revealed two-thirds of Brits had enjoyed observing our garden visitors as a means of relaxation in the past year.
Carried out by YouGov; the research discovered 63% of adults in Britain enjoyed watching the birds and hearing them sing, saying it had added to the enjoyment of their day-to-day life since the pandemic struck just over a year ago.
In addition, 41% of respondents reported seeing wildlife near their home during the past 12 months that they had never noticed before. The lockdown has encouraged people to take more interest in their local area as something to do.
More than one-third of respondents said they had learned something new about local wildlife as a result. People had encouraged wild birds to come into their garden, with 53% feeding them regularly. The pandemic appears to have spurred a new generation of nature lovers, according to the RSPB.
Why is the Big Garden Birdwatch so important?
The wildlife charity has run its Birdwatch for the past 42 years, counting 144 million birds and providing vital insight into how Britain's wildlife is faring. Creating a snapshot of each species all over the UK helps conservationists determine which are in trouble. This is extremely important when you consider 40% of the world's bird species have been declining in recent years - with 12% under threat of extinction.
The good news is that the number of sparrows has remained constant since last year's Birdwatch. While the UK's sparrow population has declined by 58% since 1979, the fact it has remained steady during the past 12 months is more hopeful for the species' future.
Some great news: the second most commonly sighted bird this year was the blue tit, up one place from 2020, with a population increase of 10% in total since 1979.
Why is the starling struggling?
Sadly, it is not good news for the starling. Not only has it dropped to number three, from number two in 2020, but it has suffered a general decline of 83% since 1979. Ornithologists are unable to explain exactly why this species has suffered such a huge drop in numbers.
The British Trust for Ornithology has monitored the starling population for many years and because of the significant decline in numbers, it has now been red listed as being of high concern in conservation terms. There doesn't appear to be any one reason why starlings are struggling.
One theory is that they depend heavily on soil-dwelling invertebrates, such as earthworms, as their major food source. This food supply may have declined because of the particularly dry summers in recent years. It may also be due to modern agricultural practices and land-use changes that can damage soil and its associated biodiversity.
The blackbird is at number four and although its population has declined by 41% since 1979, it has now made a slight comeback this year. Its recent increase in population has led to the blackbird being transferred from amber to green status.
Which bird is booming?
At number five is the woodpigeon, which has made a remarkable comeback since 1979. Its population in the UK is up by an incredible 1,029% in the past 42 years! The woodpigeon is thriving both in gardens and in the wider countryside. Its numbers have reached a record high, with an estimated 2.5 million pairs in Britain.
Several reasons have been cited for its booming population. For example, the increased production of rapeseed oil in the countryside has provided fresh "greens" for woodpigeons to eat all year round, including in the winter.
The increased population is spilling over into our gardens, where there's more food and places to nest. They are increasingly seen in suburban gardens, as well as in rural areas.
The robin is at number six, with its population having grown a little in the past 12 months. Although its numbers had dipped by 25% since 1979, it is now starting to claw back lost ground. Arguably Britain's favourite wild bird, the robin now has green conservation status to recognise its recent recovery.
Which birds are making a comeback?
The great tit came in at number seven, after experiencing a 57% growth in population since 1979. The national population is now an estimated two million birds, which are found in woodlands, farmland, parks and gardens.
At number eight, the goldfinch population has increased 13% in the past decade. The increase in numbers has been described as "dramatic" by the RSPB, with no obvious reason for the boom. The RSPB suggests goldfinches are adapting better than some species to garden bird feeders, as they visit our gardens more often now than they did 20 years ago.
The magpie at number nine is another species making a comeback, with its population up by 192% since 1979. They are found all year round in most parts of the UK, apart from the northernmost parts of the Scottish Highlands. The RSPB estimates the total breeding population is around 600,000 magpies.
Coming in at number ten is the long-tailed tit, whose population has grown by 19% in the past ten years. They are found in Britain all year round and may also be benefiting from more people putting out wild bird food in their gardens.
How can you help birdlife?
The RSPB is encouraging more people to take part in birdwatching and to join the British Birdwatch 2022 to help preserve the wildlife we love. Follow the RSPB's birdwatching advice and attract more of our feathered friends into your garden.
Unleash your inner ornithologist and go out bird watching this summer! A great way to spend those longer days, it will get you into practice for next year's Big Garden Birdwatch 2022.