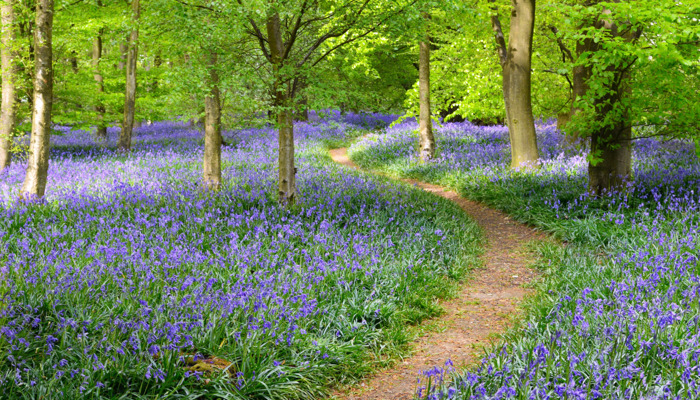 © Diana Mower / Shutterstock.com
According to statistics released by the Forest Research organisation in 2020, Britain has 3.21 million hectares of woodland; covering 19% of Scotland, 15% of Wales, 10% of England and 9% of Northern Ireland.
As well as being beauty spots, the woodland areas are vital for the wellbeing of the planet. Environmental project, Woodland Carbon Code, estimates the UK's woodlands will take 4.7 million tonnes of carbon dioxide out of the air and release it as oxygen over the next century.
The history of Britain's woodlands
Woodlands in Britain that formed earlier than 1600 are classed as ancient, because they evolved naturally, like the oceans and mountains.
The Forestry Commission was launched in September 1919 to restore the forests and woodlands that had been lost during World War I. Starting in 1914, the conflict had devastated Britain's woodland areas, due to timber supplies from overseas being disrupted by German submarine attacks. The UK government decided to maximise home production, setting up the Homegrown Timber Committee in November 1915.
By the end of 1917, there were 182 government-run sawmills across the UK, with an additional 40 mills run by groups including the Women's Forestry Corps and the Canadian Forestry Corps. By the end of the war in 1918, around 182,000 hectares of woodland (an area larger than modern-day Greater London) had been felled.
The conflict had transformed the landscape and many of the woodlands we know and love today didn't even exist until after the war ended, when an extensive reforestation project began. Today, the state owns much of Britain's woodlands and the Forestry Commission, a government body, maintains most of them in England.
The commission merged with Natural Resources Wales in 2013 to maintain the Welsh woodlands. In Scotland, Forestry and Land Scotland maintains the woodlands and Scottish Forestry is responsible for the policy and regulations. Forests in Northern Ireland are managed by the Forest Service of Northern Ireland.
Common woodland sights, smells and sounds
One of the most delightful woodland scenes is a carpet of bluebells. With their unique intoxicating fragrance, Britain has many bluebell woods that are a haven for walkers.
Clanger and Picket Woods, in Wiltshire, has been designated a Site of Special Scientific Interest because of the large butterfly and moth populations that live there. There are also plenty of paths leading to glades, where bluebells thrive.
Brede High Woods, in Sussex, is located within the High Weald Area of Outstanding Natural Beauty. As well as being renowned for its bluebells, it is also known for sightings of nightingales, woodcock and buzzards. Walkers can often hear the melodic birdsong of the nightingale, while other wildlife found there includes great crested newts, glow-worms, lampreys, badgers, the dormouse and fallow deer.
Shaptor Woods, at Bovey Tracey, in Devon, comprises a wide expanse of woodland, made up of several ancient woodland sites. It contains public rights of way and a path leading to Shaptor Rocks, where you can enjoy spectacular views across the landscape.
Tattershall Carrs, in Lincolnshire, is the final remnant of the ancient, alder-dominated, wet woodland that once surrounded the Fens. It made history during WW2 as home to RAF Woodhall Spa - base of the legendary 617 Dambusters squadron.
Are there any woods with unusual features?
The beautiful woodlands of Coed Nant Gwernol and Coed Hendrewallog, in Gwynedd, Wales, offer stunning views, rare wildlife and diverse habitats against a backdrop of tumbling waterfalls, flowing streams and tranquil pools. You can often see otters foraging on the riverbanks.
At Quarryman's Climb, the remainder of the historic mine at Bryn Eglwys quarry, which at its peak employed more than 300 men, has become a visitor attraction. Surface work began there in the early 19th century. It developed into a major employer, with underground workers producing slate in the mid-19th century.
Producing around 8,000 tons per year in its heyday, by 1938, there was only enough work for around 60 workers - the mine closed in 1948. The buildings were partially demolished and by the early 1980s, much of the site had become a forest again, although the last remnants of the mine remain.
In Scotland, the vast Glen Finglas estate, at Brig o'Turk, Stirling, is located at the heart of Loch Lomond and the Trossachs National Park. Visitors can feel at one with nature, thanks to the mountains, woodland and moorland, rivers, hills and glens. Many waterfalls and pools flow through this spectacular landscape, where the three-mile Lendrisk Hill and Dam Walk is among the more challenging trails.
In west Cornwall, Tehidy Woods is the largest area of woodland, with more than nine miles of paths spanning 250 acres of peaceful woodlands and lakes that are popular with walkers. One of its most spectacular features is a 90ft monument to Sir Francis Basset, erected in 1836 on top of Carn Brea.
The prominent local businessman and politician resided at Tehidy House, near Redruth. He was one of the most active figures in the Cornish elections in 1784, was a partner in the Cornish Bank at Truro until 1801 and chairman of the Cornish Metal Company between 1785 and 1792.
Are any of the woodlands protected?
Many of Britain's woodlands are protected today by government legislation. In particular, ancient woodland and veteran trees are protected from development. The guidelines are set by two organisations, Natural England and the Forestry Commission.
Ancient woodland is defined as an irreplaceable habitat that has taken hundreds of years to form. It is important for its wildlife, including threatened and rare species; its soils; and its historical, cultural, landscape and recreational value.
In addition, woodlands located in National Parks and on National Trust sites are protected from development. Any woodland planted before 1600 is automatically protected by the law. Also, woodland made up mainly of trees and shrubs native to the location is commonly protected.
Plantations of conifer and broad-leaved trees on woodland sites that have been replanted in more recent years are also protected, as are woods that retain ancient features, such as ground flora and fungi.
Walker's paradise: be prepared!
If you're planning to explore any of the UK's magnificent woodland environments, make sure you're properly prepared and take some essential items with you. Always take warm clothing, because it can get chilly, even on a summer's day. Wear walking boots for comfort and safety. Always be prepared for rain – after all, we're in the UK. Rain happens, frequently!