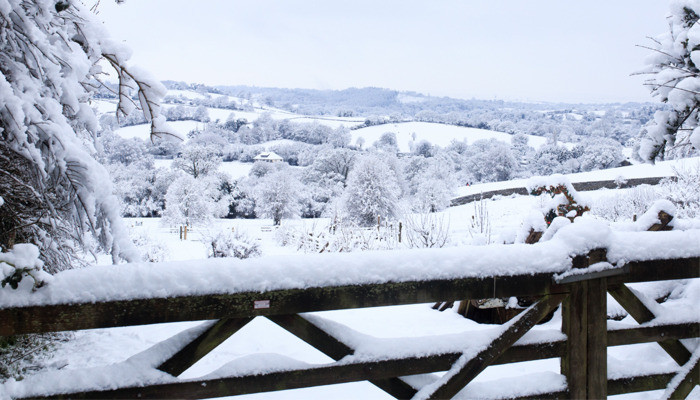 © Simon Charles Tharby / Shutterstock.com
One of the most evocative poems about the changing seasons, January Brings the Snow, was written almost 200 years ago by English poet Sara Coleridge. The timeless classic takes readers on a walk through the changing weather and landscapes of each month of the year.
The author was quite remarkable, as she was born in an era when writing wasn't considered a suitable career for a woman. Largely self-taught, she enjoyed reading the ancient classics as a youngster. She also mastered several languages and translated historic books into English from Latin and Medieval French.
January Brings the Snow was first published in a compilation of her poetry, Pretty Lessons in Verse for Good Children, in 1834.
About the author
Born in December 1802, in Keswick, Cumbria, Sara was the daughter of the famous English poet, Samuel Taylor Coleridge. One of four siblings, she was named after her mother. The family lived at Greta Hall in the Lake District.
The Coleridges lived with their extended family; including Sara's uncle, the English Romantic poet Robert Southey and his wife Edith; and another aunt who was the widow of the famous Quaker poet, Robert Lovell. Sara's brothers, Hartley and Derwent, were both authors. Nurtured in a household filled with artistic people, famous poet William Wordsworth was a neighbour, in nearby Grasmere.
Sara attended a small local school briefly but was largely educated at home, reading Greek and Latin classics. She became fluent in German, French, Italian and Spanish before the age of 25.
At the age of 20, she translated from Latin three large volumes of Account of the Abipones, a factual book written by Austrian missionary Martin Dobrizhoffer. It was his personal account of the lifestyle of the Abipones people, the indigenous population of Argentina's Gran Chaco region.
The book was published in 1822 and was critically acclaimed by her peers, with respected author and poet Charles Lamb marvelling at how Sara had managed to translate a complex language such as Latin so well. In today's terms, she would probably be described as a genius.
Sara married her cousin Henry Nelson Coleridge in 1829 and the couple had four children. Sadly, only two, Herbert and Edith, survived into adulthood - also commonplace in the early 19th century. She continued writing, including many poems, mainly to entertain her children.
After they were published in Sara's compilation book in 1834, they were an instant hit. In particular, January Brings the Snow was on many a school's English literature curriculum.
Poem's inspiration
Although there's no record of what was going through Sara's mind when she wrote January Brings the Snow, it would be fair to say she was inspired by the changing seasons, as she gazed out of the window of her marital home in Hampstead. The area was a far cry from the bustling London borough we know today.
In the early 19th century, Sara had plenty of time for reflection. Quite a private person, she didn't publish her poetry under her own name. She was described as "keeping her light under a bushel". Apart from the earlier publication of her translations, she tended to write for pleasure.
January Brings the Snow appears to depict her own life and how she felt about the changing seasons. It begins with the words, "January brings the snow, makes our feet and fingers glow. February brings the rain, thaws the frozen lake again."
In an era before the trappings of modern life and technology, going for walks was something people would do more often for pleasure. Sara describes the arrival of spring, writing, "March brings breezes sharp and shrill, shakes the dancing daffodil. April brings the primrose sweet, scatters daisies at our feet." She walks the reader through the whole range of seasonal landscapes, including the "tulips, lilies and roses" of June and August's "sheaves of corn" as the harvest begins.
The poem ends as "chill December brings the sleet,", although the narrator enjoys the "blazing fire and Christmas treat". This conjures up an image of feeling cosy on the sofa and enjoying the glow of Christmas. Then, of course, the weather cycle begins all over again in January.
Later life
After the publication of Pretty Lessons in Verse for Good Children, Sara published only one more work, Phantasmion: A Fairy Tale, in 1837. It was later described by author and bibliographer Mike Ashley as "the first fairytale novel written in English".
Sadly, after the death of her husband, Henry, in 1843, Sara led quite a solitary life, devoting her time to editing her late father's works. Her own health failed and she died at the age of only 49 in May 1852, from what we now know to be breast cancer.
It wasn't until the early 21st century that her brilliance as a prolific poet was recognised. Around 120 of her previously unknown poems were discovered, finally giving her the credit she richly deserved as being an important poet of her time.
Will it snow in January?
Her poem, January Brings the Snow, has remained her most famous because of its timeless subject matter. Today, almost 200 years after it was written, January is still a lovely time of year for walking.
People enjoy wrapping up warm and taking a walk in the crisp fresh air as a welcome relief from the excesses of Christmas and it is a great way to get out and breathe in some fresh air and stretch our legs!
According to the Met Office, there's a good chance that at least some parts of the UK will see some snow in January. On average, snow falls somewhere in the UK for 5.3 days in January and 5.6 days in February.
Scotland has the highest recorded snowfall every year - in fact, Cairngorms in Scotland is officially the snowiest place in the UK, averaging 76.2 days of snow annually. Cornwall has an average of 7.4 days of snow falling every year, but it rarely settles due to our coastal setting.
Global warming means we will be unlikely to return to the long, freezing winters of the 20th century, when the snowiest winter in the UK occurred between 22nd January and 17th March 1947, when snow fell every day somewhere in the country!
Even if we don't have snow in January 2021, it's still a great month to go for a walk and enjoy some welcome fresh air.