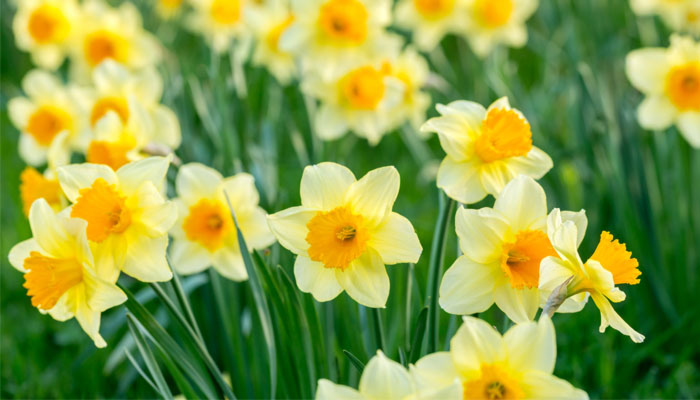 © altocumulus / Adobe Stock
English poet William Wordsworth celebrates our relationship with nature. Written in the late 18th and early 19th centuries, his work is as relevant today as it was 200 years ago.
As well as helping us to appreciate the beauty and wonder of the natural world, he wrote about life and love, while drawing society's attention to the poor and vulnerable. He famously said that he wrote his poetry in the language of ordinary people, because men who didn't "wear fine clothes" could "feel deeply" too.
Early life
Born in Cockermouth, Cumbria, in April 1770, Wordsworth was the second of five children. His father, John, was a legal representative to the 1st Earl of Lonsdale. He encouraged his children to read - they were taught by their mother, Ann.
A young William was set with academic challenges to memorise long verses, including the works of Shakespeare. With access to his father's extensive library, he enjoyed reading and he spent time at his maternal grandparents' house in Penrith, Cumberland, where he was able to enjoy exploring the moors.
After attending small, local schools in Cockermouth and Penrith, Wordsworth was sent to Hawkshead Grammar School, where his interest in writing was nurtured. He began writing sonnets and had his first one published in a monthly publication called The European Magazine in 1787, at the age of 17.
He then attended St John's College, Cambridge, where he received his BA degree in 1791. Spending his summer holidays in Hawkshead, he would often venture out on walking tours to see the idyllic English landscapes.
Poetry
Wordsworth's love of writing poetry grew and in 1793, some of his poems were published in two collections called An Evening Walk and Descriptive Sketches respectively.
In 1794, Wordsworth looked after his good friend from Cambridge University, Raisley Calvert, who was suffering from consumption. Sadly, the young man died, but bequeathed Wordsworth £900 in his will (the equivalent of around £70,000 today), so Wordsworth was able to pursue his dream of becoming a full-time poet. He became friends with fellow poet Samuel Taylor Coleridge, and they collaborated to write and publish poetry collection, Lyrical Ballads, in 1798, with input from Wordsworth's sister, Dorothy.
At this time, Wordsworth first mentioned what he viewed as a new type of verse; one based on the "real language of men" and not as dependent on the strict poetic diction that had been popular throughout the 18th century.
A love of nature
A key moment in his life and career was his move to Dove Cottage, in Grasmere in the Lake District, in the autumn of 1799. He and Dorothy settled there and he became known as one of the "Lake Poets", along with Coleridge and Robert Southey, who lived nearby.
At this time, many of Wordsworth's poems related to life and relationships, such as Home at Grasmere, which was written between 1808 and 1814. It revealed how much he loved living in the beautiful surroundings of the Lake District and his joy at sharing them with his beloved little sister Dorothy, who was also one of his most valued friends. Home at Grasmere was published in The Excursion in 1814.
Wordsworth also wrote poems on social reform, which were not as well-known as his poetry about nature. Society was going through changes and there was a large amount of urban and rural poverty. The poems featured characters whose lives were impacted by the changes.
The Daffodils
Wordsworth's most well-known poem is The Daffodils, which came fifth in a BBC Radio 4 poll in 1995 to find the UK's favourite poem of all time. A classic example of English romantic poetry, it is often part of the schools' English literature GCSE syllabus.
Inspired by a real-life event; on 15th April 1802, Wordsworth was out walking with his sister around Ullswater, according to an entry in Dorothy's journal. They strolled through the woods beyond Gowbarrow Park and saw daffodils close to the water's edge.
As they continued on their walk, they saw more and more daffodils, including a long belt of them along the shoreline, which was the breadth of a country road. Dorothy wrote, "I never saw daffodils so beautiful." She described how they "reeled and danced" and it seemed like they "laughed with the wind that blew upon them over the Lake".
Two years later, in 1804, Wordsworth wrote The Daffodils, partly based on his own memories of the special day and partly based on Dorothy's journal entry. The poem begins with the famous words, "I wandered lonely as a cloud that floats on high o'er vales and hills, when all at once, I saw a crowd, a host of golden daffodils."
It goes on to describe how the memory of the beautiful daffodils often flashes on his "inward eye" while lying in solitude on his couch. It fills his heart with pleasure as he pictures the scene, describing how "ten thousand" daffodils were "tossing their heads in sprightly dance".
First published in 1807 in the anthology, Poems in Two Volumes, it was published again in 1815. At the time, The Daffodils wasn't highly regarded by Wordsworth's contemporaries. Lord Byron described it as being written in "puerile" language and Wordsworth came to despise him as a result of his harsh words.
However, as time went by, other poets began to appreciate how wonderful and uplifting The Daffodils was. Samuel Rogers said the idea of the "dancing daffodils" was "beautiful" and public opinion also favoured the poem.
As is often the case, the poem's true magic wasn't fully appreciated until after Wordsworth's death in 1850. It is now recognised as a classic and the words "daffodils" and "Wordsworth" go hand in hand.
Spring daffodils
With spring just around the corner, the daffodils are starting to bloom, symbolising rebirth and new beginnings. Daffodils are synonymous with spring - when they bloom, it's a sign of winter's end and in some parts of the world, it's considered a lucky emblem of future prosperity.
A gift of daffodils is believed to ensure happiness and in Chinese legend, if a daffodil bulb blooms in your home during the New Year, it will bring you good luck.
MA Griggs country store has everything you need to enjoy the splendour of the great outdoors. If you're planning to take in the country air, we stock a wide range of walking boots and shoes for men, women and children; from top clothing brands including as Joules, Barbour, Hunter, Timberland and more.