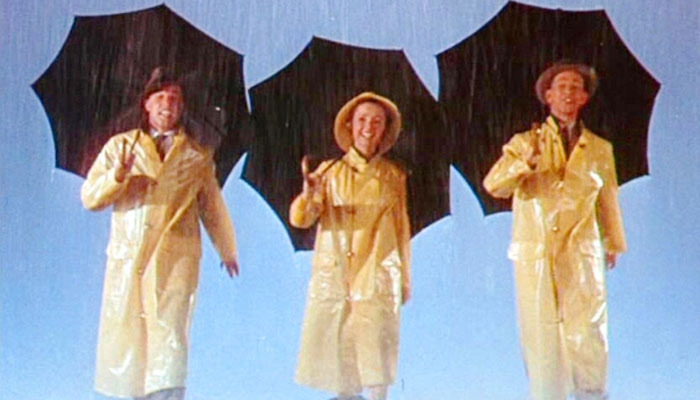 © Public Domain
Gene Kelly was amazingly talented. His athletic style changed public perception of male dancers and transformed the whole musical movie genre. By incorporating his classical ballet training into his unique technique, this enabled him to tell a story in visual terms, without the need for words.
He starred in some of the greatest Hollywood musicals of all time, including Singin' in the Rain (his most famous film) and Anchors Aweigh, when he had the legendary dance scene with an animated mouse, Jerry, from the MGM cartoon, Tom and Jerry.
With a Hollywood career spanning almost 60 years, he went on to become a film producer, director, screenwriter and choreographer. The American Film Institute has ranked him the 15th greatest male legend of classic Hollywood cinema.
Early life
Eugene Curran Kelly was one of five siblings born to phonograph salesman James and his wife Harriet Kelly in Pittsburgh, Pennsylvania. Born in August 1912, in the working-class neighbourhood of East Liberty, his mother enrolled him in dance classes when he was eight.
He was forced to take dance lessons while his friends played baseball - something he resented. In interviews, he later revealed he was often "involved in fistfights" with other boys in the neighbourhood, who teased him mercilessly, as dancing wasn't considered a manly pastime in those days.
Years later, while at college studying journalism, Kelly put his dance lessons to good use, as he began teaching at a local studio to help fund his education. He also choreographed and performed dance routines with his younger brother, Fred, entering talent contests and winning cash prizes. They earned money performing in nightclubs too.
Stage and film
After graduating in 1933, Kelly won a place at the University of Pittsburgh Law School. His family had opened their own dance school by this time and he began teaching there, eventually abandoning all thoughts of a career as a lawyer in favour of a life on the stage.
He became a choreographer for the Charles Gaynor musical revue, Hold Your Hats, staged at Pittsburgh Playhouse in April 1938, making a personal appearance in some of the sketches. One of them (La Cumparsita) was the basis of a dance number in Anchors Aweigh in 1945.
His first Broadway appearance came in November 1938, when he appeared as a dancer in the Cole Porter musical, Leave It to Me. He also had a dancing role in the stage show, One For the Money.
Kelly's big break on Broadway came in 1940, when he won the lead role in the musical comedy, Pal Joey. MGM executive Louis B Mayer saw him in action and immediately offered him a movie contract. He made his film debut in For Me and My Gal opposite screen legend Judy Garland in 1942.
Career highlights
Kelly soon revealed his own unique style, bringing dance to life in his films. In most of his roles, his routines were performed in regular clothes, in an ordinary setting, seamlessly blending the dancing into the plot. He once said all of his dances were born of the idea of the "common man".
Pushing the limits of the dance genre in all of his films, when he danced with Jerry the cartoon mouse in Anchors Aweigh, this was something that had never been seen before! He also starred in On the Town in 1949, playing a sailor on shore leave, alongside Frank Sinatra. They performed revolutionary dance routines based on ballet moves - a group of sailors ballet dancing was something that had never been done before in a movie, but it worked well.
Singin' in the Rain
In 1952, Kelly choreographed and starred in his most famous film, Singin' in the Rain. It has been hailed as the best musical of all time by some fans and critics. It told the tale of silent film star Don Lockwood, played by Kelly, who must make the difficult transition into the "talkies".
His task was made even more difficult, thanks to his onscreen partner Lina Lamont, played by Jean Hagen, whose speaking voice left her ill-prepared for the advent of movies with sound. The plot was further complicated when Lockwood fell in love with aspiring actress Kathy Selden, played by Debbie Reynolds in an early screen role.
Using an umbrella as a prop, Kelly sang and danced his way down the street, in torrential rain, in one of the most iconic scenes from a movie. Performing the title song, Singin' in the Rain, he also danced around lampposts, splashing his way through puddles.
He later said the famous dance scene was inspired by the way children enjoyed playing in the rain. The scene almost wasn't filmed - in an earlier draft of the script, Singin' in the Rain was sung by Kelly, Reynolds and co-star Donald O'Connor, who played Lockwood's lifelong pal.
It was scripted as being performed by the trio as they emerged from a restaurant to celebrate turning Lockwood's flop film, The Dueling Cavalier, into a musical. Instead, it was eventually sung by Lockwood, as he realised he was falling in love with Kathy.
Later career
After his iconic performance in Singin' in the Rain, Kelly appeared in several more hit films, including the fantasy musical Brigadoon in 1954, It's Always Fair Weather in 1955, Invitation to the Dance in 1956 and Les Girls in 1957.
As the genre of musicals began to fade in the 1960s, Kelly forged a career in television, including hosting a variety show called The Funny Side. He won an Emmy Award for his 1967 children's television movie, Jack and the Beanstalk, which he produced, directed and starred in.
He co-hosted a documentary series, That's Entertainment, in the mid-1970s to help preserve the great musicals of the past. All but retired by the 1980s, he made a final film outing in the musical, Xanadu, with Olivia Newton John. He continued to make television appearances, including guest spots on The Love Boat and The Muppet Show.
Kelly died on 2nd February 1996, aged 83, after suffering a series of strokes. The whole of Hollywood mourned the passing of one of the all-time greats.
If there's one thing you can be sure of in the UK, it's rain! MA Grigg's high quality Hunter boots are unlikely to help you to dance like Gene Kelly, but they'll certainly keep your feet warm and dry -  and they make a great fashion statement!