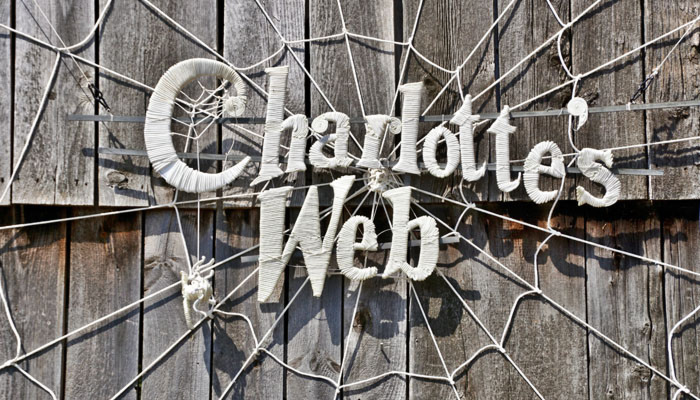 The author Elwyn Brooks White's lifelong love of animals prompted him to write Charlotte's Web - one of the most famous and best-loved children's books of all time. Using the pen name EB White, he was a remarkably private man, who could walk through a crowd unnoticed, despite his global success in the 20th century.
Published in 1952, Charlotte's Web took a theme which was ahead of its time in many ways. White depicted an ideal world in which a group of farmyard animals of all species lived together in perfect harmony, guided by the wisdom of matriarchal spider Charlotte.
© Carol Ann Mossa / Shutterstock.com
The plot also focused on a theme generally considered modern (vegetarianism), but seen from the animals' point of view. Charlotte helped save a piglet called Wilbur from becoming dinner when she turned him into a celebrity, making him invaluable alive to the farmer, Homer Zuckerman.
White's love and respect of animals shone through in his touching and sensitive novel, which topped the list of best-selling children's paperbacks of all time, according to Publishers Weekly in 2000. Despite being written almost 70 years ago, it remains relevant today and is recognised as a timeless classic.
Love of dogs
Born in Mount Vernon, New York, in July 1899, White grew up in a household where animals were much loved. His father Samuel was the president of a piano firm, while his mother Jessie was the daughter of artist William Hart, famous for his landscape paintings.
White recalled he always had a pet dog and as a result, he always had a particularly soft spot for them. He would observe their behaviour closely – he wrote non-fiction stories about all of his dogs over the years.
His short stories were published in 2013 by his granddaughter, Martha White, in a book called EB White on Dogs. The true tales of the humorous antics of his four-legged friends pre-dated the modern social media trend for dog videos and blogs by almost a century!
Canine obituary
White's many poems, letters, essays and sketches of various canine companions were lovingly compiled by Martha. They included tales of his old dachshund, Fred, who was the topic of one of his essays called Bedfellows, which the author wrote while recovering from an illness in the 1950s.
Fred was described as a "very large and dissolute dachshund" who understood much of what White said and "held it in deep contempt". He also had a Scottie, Daisy, who famously ran through Schrafft's restaurant in New York after she escaped one day. Her adventure ended in tragedy when she was fatally struck by a taxi as she crossed the road.
White loved Daisy so much that he ran an obituary for her in the New Yorker, describing how she "enjoyed practically everything in life". He paid tribute to how she died "sniffing life and enjoying it".
Quiet life
During his life, White had more than a dozen family dogs including a collie, terriers, dachshunds, Labradors, Scotties and simple "mutts". He loved all of them dearly.
In fact, he seemed to prefer the companionship of his dogs to people, as he shunned the limelight and avoided giving interviews or being photographed. This meant he was able to live a quiet, ordinary life, away from the trappings that fame can often bring.
He hadn't really planned on becoming a children's author when he graduated from Cornell University in 1921 with a Bachelor of Arts degree. His first job was as a sports writer for the New York Times. He worked for numerous newspapers and was also a contributor to several literary magazines of the era.
Children's fiction
In the late 1930s, when White was approaching middle age, he began writing children's fiction. Initially, this was more of a hobby than a career, as he wrote short stories for his niece, Janice Hart White. Many of them were about animals, including the tale of an anthropomorphic mouse called Stuart.
Published in 1945, Stuart Little depicted the adventures of a four-inch tall mouse, who was the adopted son of a human family in New York City. Initially, the children's book received a mixed reception from the critics, but years later, it was made into a trilogy of successful films between 1999 and 2005.
Following the publication of Stuart Little, White began writing Charlotte's Web, with its remarkably imaginative theme of the little spider who saved a pig's life.
Celebrity pig
Charlotte was an intelligent spider who could read and write, while Wilbur the piglet was the runt of the litter. He spent most of his time in the farmyard barn, feeling lonely, with Charlotte as his sole companion in his youth. As he grew up, he realised that his fate, as a livestock pig, was to be killed at the slaughterhouse.
He asked Charlotte if she could help him to live. She devised a simple yet effective plan to turn him into a celebrity. She began to weave intricate webs in the barn, containing messages describing how wonderful Wilbur was. The humans had no idea that the messages were the handiwork of the resident spider!
Over time, people from far and wide heard about the miracle that was occurring in the humble barn. Visitors came from all over the country to visit Zuckerman's farm and see the wonderful web in the doorway overlooking Wilbur's enclosure.
This saved Wilbur's life, as he became a star after the press heard about the "miracle". He went on to live a long and happy life.
Touch of reality
Unlike many children's books of the era, Charlotte's Web didn't have the "happily ever after" ending that readers anticipated. Although Wilbur was safe, Charlotte died of old age at the end of the book, bringing a touch of poignant reality to the magical tale.
However, her three daughters Nellie, Joy and Aranea, and further generations of Charlotte's descendants, kept Wilbur company for the rest of his life.
The book was an instant hit and became White's masterpiece. Critics described it as "just about perfect" and it won multiple awards, including the American Library Association's Newbery Medal in 1953 and the Laura Ingalls Wilder Medal in 1970.
Children's film
Hanna-Barbera released an animated feature film of Charlotte's Web in 1973. It was reported that White had a wrangle with the studio after the script-writers wanted to change the ending, keeping Charlotte alive.
White dug his heels in and wouldn't budge on his more realistic ending. It was later reported that he didn't like the film and with hindsight regretted agreeing to it being made.
As well as Stuart Little and Charlotte's Web, he wrote another children's book, The Trumpet of the Swan, in 1970. It focused on a swan called Louis, who was initially mute, but eventually, he learned how to communicate and found a mate. It was recognised as an inspiring tale of triumph over adversity.
Private life
White himself lived in a farmhouse in Maine for many years with his wife, Katherine Angell, whom he married in 1929, after they met at work. They had a son, Joel, a boat-builder and naval architect. Their marriage lasted for almost 50 years, until Katherine's death in 1977.
In later life, when White's health began to decline, his family said he battled Alzheimer's disease with "grace and humour". Joel would read to his father for hours to entertain him. It was said that White was his own worst critic.
On hearing some of the passages in his own short stories about animals, he felt his writing wasn't up to scratch. Sometimes, on Joel's intervention, White would concede, "Well ... it's not bad."
Legacy
White died, aged 86, in October 1985, at his Maine farm. The Association of Booksellers for Children launched posthumously the EB White Read Aloud Award in his honour. His obituary aptly described his writing as "timeless".
If you're looking for a branded range of high-quality country clothing, MA Grigg has something for all the family.